• Citibank dominated the product and channel categories
• Consumers recommended Airstar and Octopus for efficient applications
• Citibank topped the category for reducing living costs

Citibank dominated the product and channel categories
In the recent BankQuality™ Survey, Citibank was voted as the Most Recommended Retail Bank in Hong Kong, with a BankQuality™ Score (BQS) of 19%. Consumers upvoted the bank for efficient customer service, diverse product offerings, and its convenient mobile application. In this category, Citibank was followed by Bank of China (Macau) with 16%, and DBS Bank with 13%.
Citibank also dominated the product and channel categories, leading in five out of 12: current accounts and savings accounts, personal loans, home loans, investment products and non-life insurance. HSBC, Standard Chartered Bank (StanChart) and Alipay each excelled in two categories. HSBC led in life insurance and wealth advisory; StanChart in credit cards and time deposits; and Alipay in digital wallets and international remittances. Octopus ranked first in local fund transfers.
In the channel categories, Citibank bested in three out of six: mobile banking, phone banking and relationship with manager. China Construction Bank, Alipay and StanChart took the lead in branch banking, internet banking and chatbot services, respectively.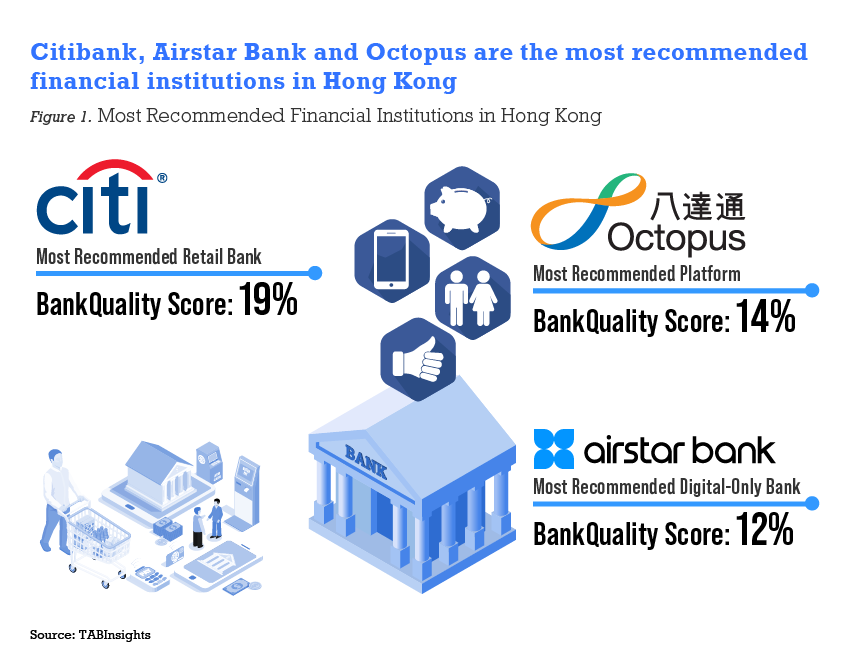 Consumers recommended Airstar and Octopus for efficient applications
Airstar Bank with a 12% BQS led the category for Most Recommended Digital-Only Bank in Hong Kong for efficient applications. Airstar obtained its license in 2019 and is one of the oldest digital-only banks in Hong Kong.
In the platform category, Octopus achieved the highest BQS of 14%, making it the Most Recommended Platform in Hong Kong. Octopus has over 20 million cards in circulation, complemented by an easy-to-use application and competitive digital product offerings. About 98% of the population in Hong Kong has an Octopus account. Consumers mainly enjoy its payment services, monitoring transportation expenses and keeping track of daily expenses through the platform.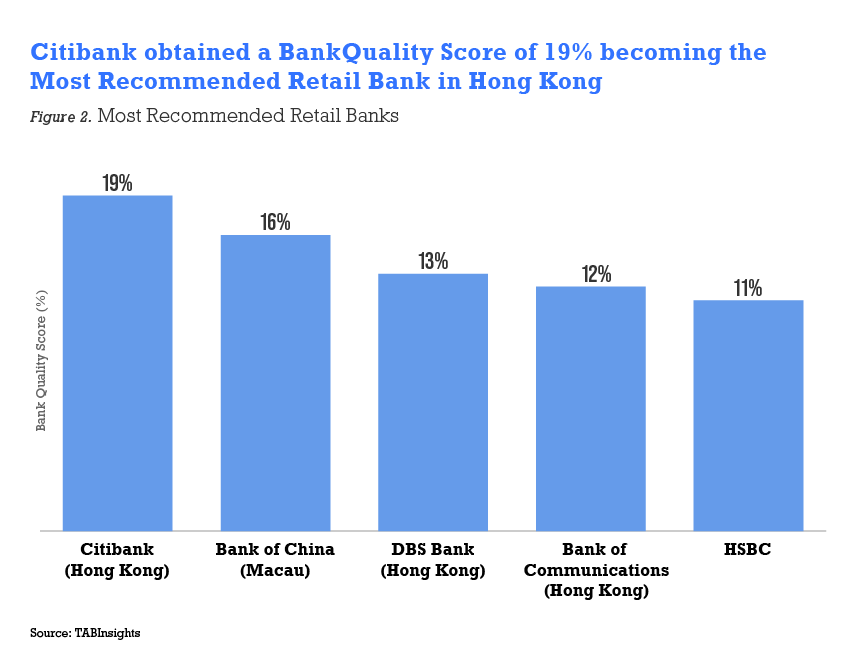 Citibank topped the category for reducing living costs
Citibank was voted the Most Helpful Main Retail Financial Institution for reducing the cost of living, a category in which financial institutions are scored based on how helpful they are in providing extra savings. The bank scored 3.9 out of five. Banks were graded based on how they remind customers about upcoming charges such as bills, overdrafts, outstanding balances and below-minimum balances on deposit accounts in order to save on fees and charges.
The BankQuality™ Consumer Survey and Rankings is a digital consumer feedback channel developed by The Asian Banker. It surveyed 1,000 online customers in Hong Kong to understand their engagement, experience, and satisfaction with retail financial services institutions based on their experience with service, channels and products, and support in managing living costs.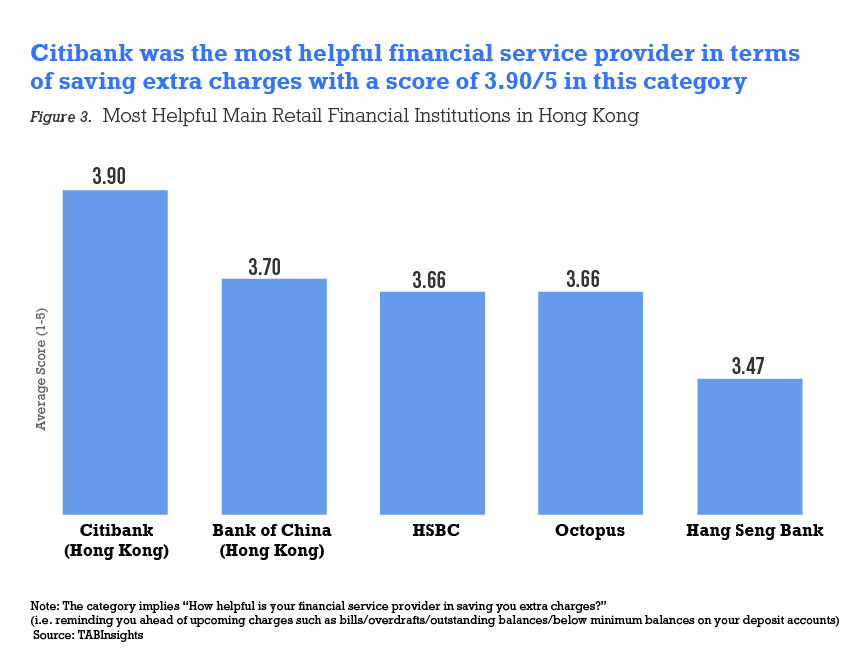 About BankQuality™ Survey methodology for Hong Kong
The BankQuality™ Survey took place from January to February 2023 in Hong Kong. The BQS is derived from responses on a scale of 0 to 1. For the products and channels category, the weighted BQS is calculated using values from both primary and secondary banks. This weighted average is then adjusted based on the total number of survey votes in these two categories.