Hong Leong Bank and RHB Bank led in multiple categories
Touch 'n Go voted for convenience and speed
Maybank is the most helpful financial institution for reducing living costs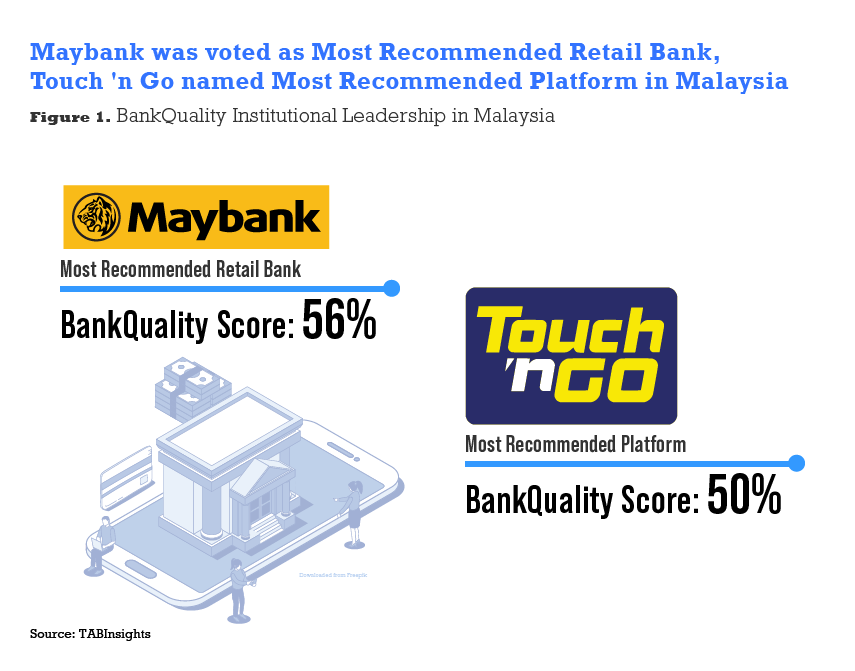 Hong Leong Bank and RHB Bank led in multiple categories
In the recent BankQuality™ Survey, Maybank was voted as the Most Recommended Retail Bank in Malaysia with 56% in overall score. Standard Chartered Bank scored 49%. Runners up were HSBC, Hong Leong Bank and UCB. Consumers cited great customer and user experience, wide accessibility and strong brand reputation as the reasons for choosing Maybank.
Hong Leong Bank led in five out of 12 product categories, namely current account and savings account (CASA), international remittance, investment product, non-life and life insurance. RHB led in credit card and personal loan products, while Public Bank scored on local fund transfers and home loans.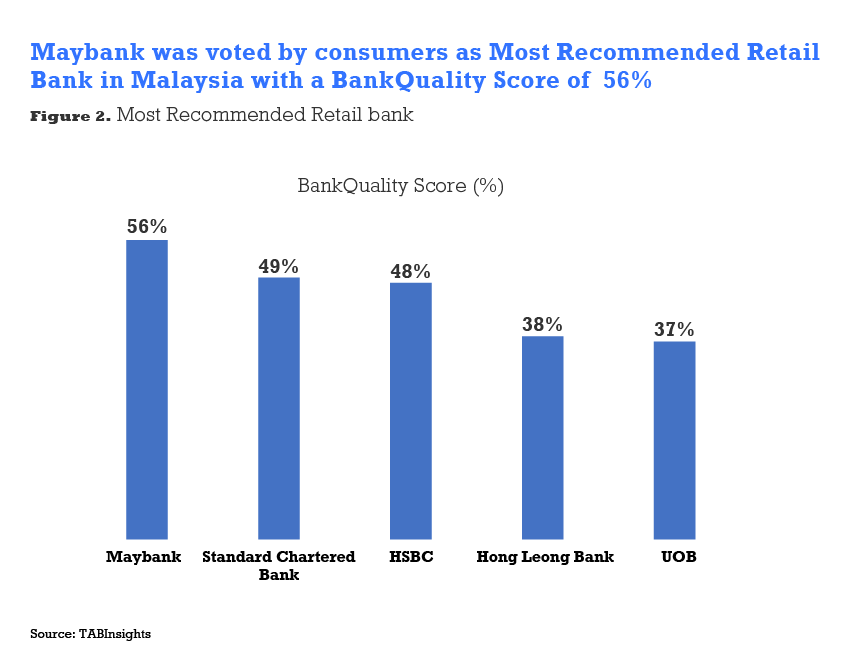 Touch 'n Go voted for convenience and speed
Touch 'n Go scored 50% and came up on top as the Most Recommended Platform in Malaysia for providing convenient application services and fast transactions.
In the channels category, RHB led in two out of six categories, namely mobile banking and branch banking; CIMB in chatbot; Maybank in Internet banking; HSBC in relationships with managers; and Touch 'n Go in phone banking.
Maybank is the most helpful financial institution for reducing living costs
With an average score of 4.15 out of 5, Maybank was voted the Most Helpful Main Retail Financial Institution for reducing the cost of living, a category in which financial institutions are scored based on how helpful they are in providing extra savings.
Banks were graded based on how they remind customers of upcoming charges such as bills, overdrafts, outstanding balances and below-minimum balances on deposit accounts to help customers avoid extra fees.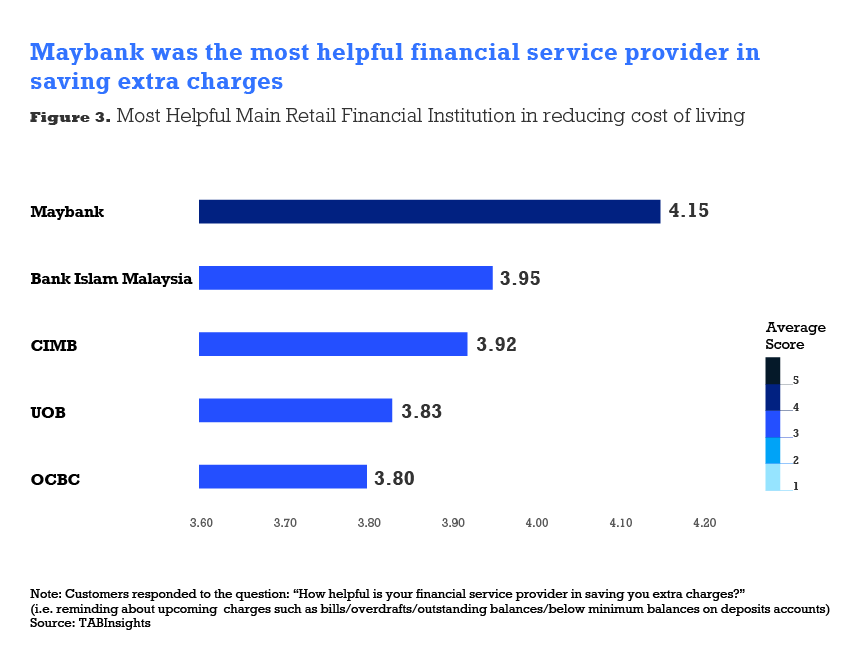 About BankQuality™ Survey methodology for Malaysia
The BankQuality™ Survey took place from January to February 2023 in Malaysia across 1,000 respondents. The BankQuality™ Score (BQS) was derived from responses on a scale of 0 to 1. For the products and channels category, the weighted BQS was calculated using values from both primary and secondary banks. This weighted average was then adjusted based on the total number of survey votes in these two categories.
Members of TABInsights can now access the comprehensive Malaysia report, that includes a detailed breakdown of BQS scores for various institutions, products, and channels. Please click here to access the report: https://reports.tabinsights.com/bankquality-consumer-survey-2023-malaysia-report