In a high inflationary and interest-rate environment, the ability to manage cash and liquidity was significantly challenged for corporations. High external borrowing costs, the search for yield and the need for global visibility for internal funding required an active and cost-effective approach to liquidity and risk management.
The evolving geopolitical situation necessitated the management of potential currency exposures by incorporating solutions to minimise currency mismatches and foreign exchange (FX) risks on cross-border payments.
Trade finance challenges were further accentuated by a persistent rise in financing costs owing to supply chain disruption and lockdowns. The digitalisation of processes and quick supplier onboarding were identified as key in mitigating those risks. Calls for incorporating environmental, social, and governance features in supply chain finance also grew amid demand from consumers and stakeholders.
Financial service providers with the ability to support customers in their treasury transformation through adoption of digital workflow solutions using application programming interfaces (API) and enhanced product capabilities stood out.
In The Asian Banker Best Transaction Bank Rankings 2023, transaction banks across Asia Pacific were recognised through a comprehensive assessment process conducted from February to May 2023.
BoA deepens transaction banking capabilities of CashPro
The contribution to overall bank revenue of Bank of America's (BoA) Global Transaction Services (GTS) increased by 38% to over 11% in 2022, highlighting the significance of GTS as an overall revenue driver for the bank. With significant investments in technology channelled towards supporting new product initiatives, the bank harnessed the power of technology including artificial intelligence and machine learning to automate and digitise treasury operations and customer experience.
The bank widened its CashPro platform capabilities and its existing suite of payment, receivables, liquidity management, trade and FX solutions. CashPro is its fully integrated, multi-channel platform that underpins its digital banking capabilities, and a central tool for its customers.
Functionalities such as CashPro's forecasting tool help customers make better decisions. It sources up to two years of historical balance and transaction information from both BoA and non-BoA accounts and produces forecasts up to one year. In 2022, it introduced CashPro Assistant, a self-help tool for onboarding supported by CashPro Validator and its Erica chat-bot, that provides intelligent round-the-clock support.
As of November 2022, CashPro's digitally active base across business, commercial and corporate banking customers was over 75%. While the adoption for CashPro online grew by 21%, mobile app adoption recorded a growth of 38% active users and surpassed two million sign-ins as of December 2022, a growth of 41% year-on-year (YoY).
For its proactive stance in customer service and experience, Bank of America was recognised as Best International Transaction Bank and Cash Management Bank in Asia Pacific.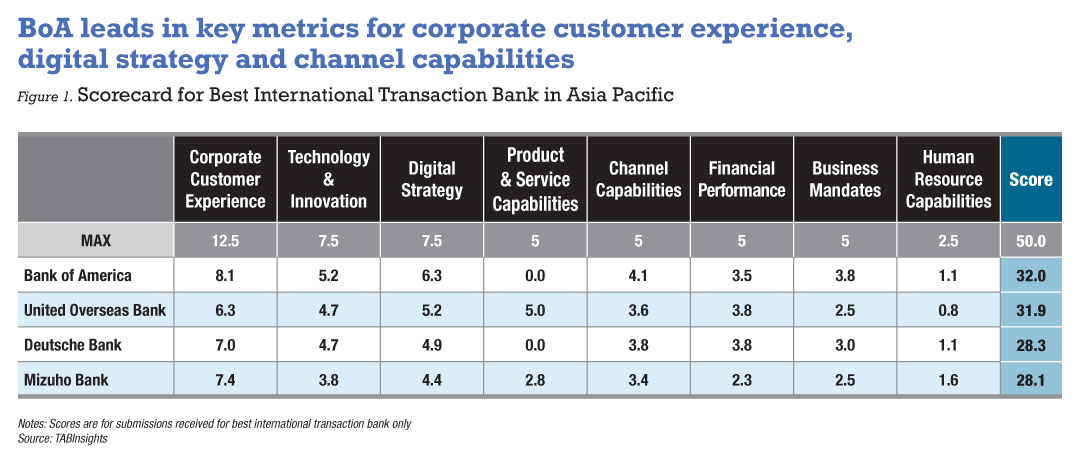 UOB, ASEAN transaction banking powerhouse
For its collective achievements and strengths across cash management, trade and financial supply chain finance management (FSCM), UOB was recognised as the Best Asian International Transaction Bank in Asia Pacific.
Not only is the business highly integrated within cash, trade, and FSCM functions under the Global Transaction Banking umbrella with a cross-sell ratio among customers averaging 75%, the segment has gone from strength to strength and now contributes close to 35% to the group wholesale bank income.
UOB's key strengths lie in its deep-selling and cross-selling sales culture, and network connectivity across both North Asia and the ASEAN region, which allows it to support customers as 'one-bank' regionally.
Continued onboarding of new-to-bank flagship business-to-business-to-consumer and e-commerce customers across the region brought higher transaction flow volumes and incremental operating balances, leading to robust growth in its cash management revenues for 2022. Revenues for the cash management business grew 82% YoY.
With the ongoing rollout of UOB Infinity, its next-generation business internet banking platform across its core markets, UOB has converted a significant percentage of its previously manual customer base on UOB Infinity and BIBPlus and transitioned them to electronic channels. Some 77% of its total customer base, including small and medium-sized enterprises, are now registered on its online platform.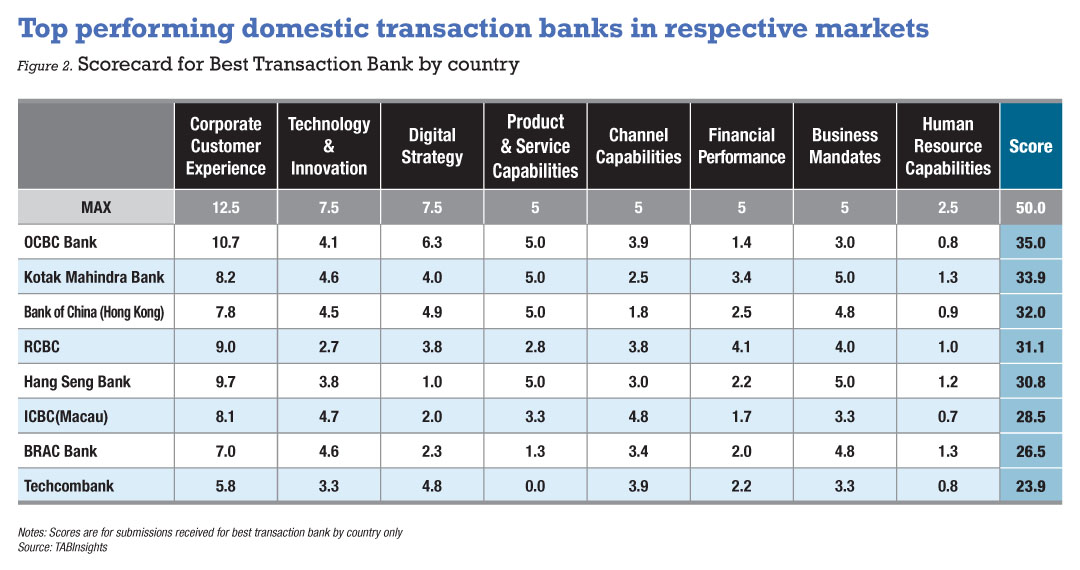 Global coverage key to Deutsche Bank's trade finance business
With an impressive market penetration of close to 20% of revenue attributable to its 14 markets in Asia Pacific, Deutsche Bank's ability to leverage its global network of correspondent banks provided significant trade finance coverage.
In 2022, Deutsche Bank was one of the few global banks to establish a new office in Bangladesh, paving the way to monetising new opportunities across trade finance institution business.
Its key initiatives that drove end-to-end performance of its business were underpinned by digital resilience, moving customers and their trade ecosystems from paper to digital. It deployed scalable core and external API to accelerate interoperability among trade networks, and automated regulatory and compliance checks thru data analytics.
Its FSCM customers can access TradeSense, a data analytics dashboard that provides buyers clear visibility into how their payables programme is performing. Citing onboarding of suppliers as a key challenge during the pandemic, it launched a self-onboarding portal for suppliers.For its strength in global connections for trade finance coverage, Deutsche Bank was recognised as Best International Trade and Supply Chain Finance Bank in Asia Pacific.
OCBC Bank from Singapore (Figure 2) scored 35 out of 50 with a leading position in elevating customer experience and digital strategy, and was recognised for continual enhancements of its transaction solutions. It was recognised as Best Transaction Bank in Singapore.
Domestic rankings of Best Transaction Banks by country
OCBC Bank from Singapore (Figure 2) scored the maximum score in absolute terms - of all domestic banks 35 out of 50 with a leading position as the top transaction bank in Singapore. It stood out for elevating customer experience and digital strategy and was recognised for continual enhancements of its transaction solutions with its platform OCBC Velocity with intelligent tools such as the Business Financial Management including cash flow analysis and e-invoicing to assist small and medium enterprises (SME) owners digitalise their financial management processes.
It captured a mandate from a key domestic bank in Singapore covering the education industry. It delivered OCBC's API Dynamic QR collection solution on the student web-portal and OCBC API Payment solutions to expeditiously collect from and pay to their students electronically. OCBC partnered with a statutory board's subsidiary company to enable customers to top up their app wallets seamlessly through its Fast and Secure Transfers (FAST) APIs.
OCBC Bank's digital initiatives have translated into 82% of customers becoming digitally active, with over 90% of transactions being digital and straight-through. In 2022, the bank reported a 216% YoY increase in transaction volume as well as a 240% increase in transaction value in Singapore. OCBC Bank was recognised as Best Transaction Bank in Singapore.
Second to OCBC Bank, Kotak Mahindra Bank scored 33.9 out of 50 as it emerged as the top transaction bank in India. The bank has stood as an innovative cash management service provider for demonstrating enhanced digital capabilities and improved customer experience through the launch of innovative platforms and powering do-it-yourself cash management features. Its Instant Cash Management Service platform automatically onboards customers on its cash management platform from seven to eight days, down to four to eight hours. The bank's launch of new platforms such as Kotak Fyn (For Your Needs) and Fusion Cash Management platform has been driving significant momentum for its cash management business.